WIPES GO IN THE TRASH, NOT THE TOILET!
(even if the package says the are flush-able)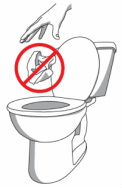 Avoid sewage back-ups in your home
Wipes do not easily break down, and they clog plumbing.
Flushing items other than toilet paper and human waste will cause equipment to fail, poses a health risk and puts your home at risk of sewage back-ups.
---
---
QUESTIONS TO ASK THE HOMEOWNER WHEN BUYING A HOUSE
Do you have a copy of the septic system permit?
When was the last time the septic tank was pumped out?
Are there records of system maintenance (tank pump-outs, system repair)?
Have there been any problems with the septic system: system backing up, foul odours, effluent on the surface, soggy ground in the leaching bed, system freezing, toilet and drains gurgling or draining slowly?
Have there been any potable water quality problems (E. coli, faecal coliform, nitrate)?
This could be due to infiltration of the well by leakage from the septic system and could indicate a malfunctioning system. Results from the water quality samples that you take of the well water may help indicate septic system problems.
---
INDICATIONS OF SEPTIC SYSTEM PROBLEMS
Odors – especially after a rainfall
Bleed out or seepage - around the septic tank or leaching (tile) bed
Ponding – the ground around the septic tank or leaching bed may be soggy or spongy to walk on
Green stripes of grass or patchy lawn over tile field
Slow draining fixtures – toilets don't flush well and drains take longer than usual to empty
Back up - the water level in the septic tank is higher than the outlet pipe
Freeze up
Frequent pump-outs
---
PLEASE CONSERVE AND MAKE YOUR SEPTIC SYSTEM HEALTHY
Reduce the amount of water your septic system has to process
Do not use excessive amounts of toilet tissue
Do not feed your septic system food, fats, plastics, cigarette filters or toxic chemicals
Keep trees and shrubs away from the system
Do not restrict sunlight over the system with buildings, decks or structures
Keep heavy equipment and traffic away from the system to avoid damage
Pump the septic tank on a regular basis